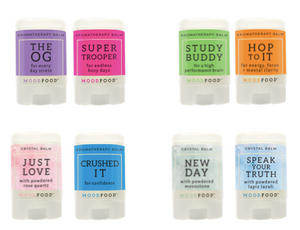 Perfect Pairs
Double - or triple - up!
All of our balms work together.
Pairs are great for travel, for students, and to deal with everyday stress
Mood Food News
They stick like a sticker, but there's no adhesive - so, yes, we think our clings are pretty magical. You can move them anywhere you like and there's nothing sticky...
Here's a round up of some of the brands we met and fell for at February's NYNow Show.
Listening to a few monthly/weekly energy forecasts, we've gotten the sense that December just might be a little disruptive, and maybe not the month to try to push through a...