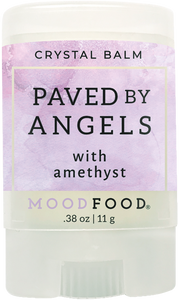 Mood Food
Paved By Angels
Regular price
$28.00
$0.00
Unit price
per
Power, Positivity & Spiritual Awareness. When we're connected with our angels, inner power and positivity flow, as if our path was paved by Angels… and guess what? It is. Our intention for this balm which contains Amethyst crystal flakes is just that, to follow that beautiful path. Patchouli and Ylang Ylang create a deeply resonant fragrance that also happens to be a pretty good antidote to stress.
Stress and Anxiety reducing
Infused with Amethyst Crystals
Energized with intentions to help you find and follow your path
Vegan
Unisex Scent
Read more about our crystal balms on our blog.
To Use: Stop. Breathe. Vigorously rub on to skin - pulse points of your wrists, neck, décolletage – to release the scent. Breathe deeply. Repeat as needed.
Ingredients: Sunflower Oil*, Jojoba Oil*, Candelilla Wax, Essential Oils of Patchouli*, Ylang Ylang,  Amethyst flakes
*organic ingredients
.35 oz
Counterindications: Do not use if you are pregnant. Over use may cause headaches. Do not drive or operate heavy machinery immediately after using.  Not intended for babies & children under 12. Discontinue use if irritation develops.
*These statements have not been evaluated by the Food and Drug Administration. This product is not intended to diagnose, treat, cure, or prevent any disease.
Store in a cool, dry place: keep out of direct sunlight. Hand made in a facility that exposes the product to tree nuts.
---
Share this Product
PAVED BY ANGELS evokes a spiritual connection for me. Patchouli, Ylang Ylang, and crushed Amethyst are combined to make a powerful and positive scent that tunes into higher vibrations. You can feel the frequency of the ingredients!"
---